Building a Virtual, Insurance-Based Nutrition Practice
2017. That was the year I decided that I wanted to start my journey of working towards a private practice. I had absolutely no idea where to begin. So I started where any person would begin: I googled it! I came across dietitians who were pioneers in the field and had blog posts similar to what I hope this will be for you. I joined a ton of Facebook Groups to help me connect, learn, and grow alongside others who were well ahead of the game and where also in the same boat as me. Some of the Facebook Groups I found helpful were, and continue to be:
During this time, I was also working full-time as a retail dietitian as well as per-diem at a rehabilitation facility. I started with one notebook, writing down my thoughts, dreams, goals, and aspirations. It would become my business partner, chronicling my journey along the way.
Following your Calling and Choosing your Niche
I always knew I wanted to work in some aspect of heart disease and diabetes. It's why I pursued becoming a Certified Diabetes Care and Education Specialist and most recently, a Clinical Lipid Specialist. I also knew very early on that I wanted to particularly serve men because of my Dad. He passed away from heart disease at the age of 47. I knew that I wanted to help others like him and to help guide them on their nutrition journey. And so, my niche became helping men with heart disease. I also focus on cardio-metabolic issues such as hyperlipidemia, diabetes, hypertension, and more.
Niching down has been one of the most impactful aspects of my business and I truly believe it is an essential part of your business. It acts as your compass, helping you to navigate your messaging, who you network with, how you communicated what you do. I do believe there is truth to "If you serve everyone, you serve no one." When you clearly define your niche, you build your credibility and your reputation as an expert in your specialty. Family and friends will begin to refer to you knowing the types of people that you provide nutrition services for. Physicians, health professionals, and other disciplines begin to see you as the "go-to" person to help them help their patients.
What to do if you don't have a Niche
Don't worry! That's what life and experience is all about! I would start with a simple exercise of listing the things that set your Dietitian soul on fire. Write your passion projects or a client that you worked with that you really enjoyed helping. Was there a certain population that made you light up? Pediatrics, young professionals, geriatrics? Was it an amazing experience during your dietetic internship that made you think about leaning in that direction? Or a dietitian that followed a less conventional career path and is working with the media or freelance writing?
Think about who you want to serve, what you want to help them with, and through which medium.
Set Up Statement:
I want to serve ___________ to help them ____________________ through _________________.
Client Suggestions
Issue your helping them with
Platform/medium you will guide them
Men
Women
Children
Pregnant Women
College Students
Young Professionals
Busy Working Moms
Individuals with Food Allergies
Healing their relationship with food
Managing blood sugar
Reducing gastrointestinal distress and symptoms
Pre-and perinatal nutrition
Fertility support
Finding food freedom
Living with food allergies
Alleviating symptoms associated with autoimmune disorders
1:1 nutrition counseling
Group programs
Self-Study course(s)
Membership Site
Freelance Writing
Blogging
E-books
Media
Brand Partnerships/Collaborations


Creating your Ideal Client Avatar (ICA)
Now that you have become clearer on your niche, you get to have a little fun! Creating your Ideal Client Avatar (ICA) is a pivotal part of your practice. Your ideal client is the person you would love to work with. Your catalyst to doing what you love to do day in and day out. The one who you could work with 24/7, 365 and still be just as excited to help and serve. Your Ideal Client Avatar is based upon your Ideal Client. Write down who this person is, what their biggest problems and pain points are are, and what solutions are they searching for. This allows you to direct all of your communication, content, and marketing to helping your Ideal Client.
Examples of ICA:
– a young college student who struggles with eating healthy foods while away at school
– an athlete who is trying to enhance their strength and endurance with nutrition for their next marathon
– a woman with gestational diabetes who is trying to nurture her baby and reduce the risk of complications

Don't be afraid to get specific! Think about if you had listened to a podcast episode, video, or presentation that discussed ways to help navigate food jags for toddlers. If you're a 20-something year old man that's in college with no children, this would not be relevant to you. However, if the presentation was about ways to meal prep with ease and create non-microwaveable lunches in minutes, heck yes, this guy would be more interested!
This is why having an ICA is critical. The more granular you get, the better you are able to understand your ideal client's pain points, their biggest hopes and dreams, and communicating in a way that resonates and is relevant to them.
Creating your Business Name
I went back and forth for probably three months trying to figure out what I wanted to call my practice. I don't think I've been more indecisive in my life (ok, maybe I have been). There are two rules of thought that I see floating around the web. Depending on your bigger picture goals and what you want your nutrition practice to look like, here are my two cents.
Naming your Business with your Name
Pros:
If you plan on being the face of your business and brand, this may be a good option for you. Clients will associate your name with who you are and what you do which can further help you build your authority.
No one else has your name (most likely not!) in the way you will be representing. If you name your business similar to the name of another business, not only can it be confusing in helping you differentiate from them, but their business name may also be copyrighted or trademarked.
Cons:
You are the face of your brand. While this is also a pro, it may be difficult for some people who may be more introverted or would rather be behind the scenes, as the go to person.
If you plan on having more than yourself on your team:
Do you plan for your practice to just be you or would you eventually like to hire more dietitians? If you have Jane Smith Nutrition and then hire Suzie Q and Dena Day, then potential clients may be confused or want to specifically work with Jane Smith.
Naming your Business as Something Else
Pros:
Allows for expansion and creativity. The sky is the limit! You want to pivot from a 1:1 nutrition coaching machine to a digital nomad freelance writer, you can! If you want to add more dietitians to your practice, you can create a cohesive unit all represented under the same umbrella. It can give you flexibility to pivot.
You can potentially sell your business. Who would've thought that this would be a possibility?! But it can be! If you are passing the torch to someone else or selling your blog, it's a lot easier to transfer the reins if your name is not attached to it.
Cons:
Name could already be taken, copyrighted or trademarked:
If too specific, can be problematic later on: For example, if you named your business, IBS Nutrition Solutions, and decided later on that you no longer want to work with individuals who suffer from IBS, this can be an issue. Especially if you put all your blood, sweat and tears into building up yourself in this space only to switch directions. If you are unsure of your niche or if you think it MIGHT change over time, I would suggest using your name instead.
Potential Clients/Companies might not associate you with your brand. If you are doing consulting work or a media project, people may find it difficult to associate you with your business name.
Bottom Line:
It boils down to what YOU want and where you see yourself in the next year, 5 years, or 10 years. Don't get too hung up like I did deciding what's best. Stick to whatever option you feel is best, and go with it! You can always change it in the future, even if it's a bit more of a pain and hassle.
For me, I decided to go with Naming my Business as Something Else. I chose this route because I knew I wanted to at least have the option of pivoting my suite of products and services and/or adding dietitians in the future. I chose Welding Wellness as my name, despite much feedback in the Facebook groups against why I shouldn't choose it. I decided to choose it in spite of the naysayers because guess what? The comments were from women, and not from men. My ideal client "got" the name and felt like it was something they relate to. Hence, reason #165426781236 why it's important to know your audience and ideal client!
Logo? Of course I needed on of those! Or did I?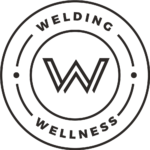 One of the last things that you need (if you even need one), is a logo. In my excited stupidity, I decided it would be the first thing I would do. I hired an amazing artist from Argentina on Upwork to create my Logo. I knew the look and feel of what I wanted, and he ran with it. I wanted something that stood for my brand and everything it represents. I wanted it to also be something that assisted me in brand recognition, that my Ideal Client could identify with, and was also something that I could use to add to all of my content and creations. It was something I wanted, rather than needed.
If I were to do it different, I would say your logo may be the 2nd to last thing that you should do. There are more important tasks to focus on then trying to determine this.
Website: Why you don't need one (but you really do!)
Again, with my excitement to start my private practice, I felt that having a website would be one of the most important things to have first. A guy from LinkedIn had reached out to me saying he was working on getting his business off the ground in NJ and could assist with my website development for a cheaper rate. I invested about $1,200 into that first website build. I felt that it was a good representation of Welding Wellness and showcased who I served but it lacked clarity and it's ability to speak to my men with heart disease in the way that I wanted it to.
I wanted my website to be able to resonate with my future clients. A place that could be a destination for physicians and providers to send their patients to, for clients to be able to navigate with ease, and for readers to get a clear picture of who I am, what I do, and how I can help them.
I decided I needed another website designer to help tweak my current website. I hired someone to assist me and as I began the process of working with him, I came across Whitney Bateson's webinar: 5 Things your Website Needs to Turn Potential Clients into Raving Fans. It changed the entire way I viewed my website. I finally saw the value and potential of what it could be and how it could help my practice. So, I decided to end my contract with my 2nd website designer and went all in with Whitney and her design team. And I couldn't be happier with how it turned out. Throughout the entire website rebuild, she and her team guided and assisted me along the way, and I felt like the final product was more than I could've hoped for. I feel like it truly provides a unique client experience and directly speaks to men with heart disease.
When you are just getting started, focus on doing the best you can with what you have. Talking and networking with friends and family about your practice, reaching out to physicians and doctor's offices, and using social media is a great way to begin to get you and your practice into the world. However, you don't own Facebook, Instagram, or any other social media platform. If one of those goes down, guess what's going down with it? Your business. Having a website that you own helps you protect everything that you have, regardless of what happens with social media. A website also helps to build your authority and credibility and can position you as an expert within your niche. It also helps to serve as a portfolio and ways to contact you should you decide to work with brands, companies, the media, or create more opportunities through blogging. Find out more about Whitney Bateson Digital Strategy by clicking here
Professional Liability Insurance (A MUST!)
You've worked sooo hard to become a Registered Dietitian which is why it's imperative to protect it! The policy will cover you incase of malpractice as well as other areas of nutrition practice. I utilize Proliability by Mercer. If you are a member of the Academy of Nutrition and Dietetics, you can also receive a discount. Learn more about Proliability by Mercer
Incorporating (Becoming an LLC)
I highly, HIGHLY recommend incorporating. While you can start out as a sole proprietor, having a Limited Liability Corporation (LLC) or becoming an S-Corp helps you to keep your business assets separate from your personal ones. It helps protect everything you've worked so hard for personally and professionally if anything were to happen. I incorporated online through the state of New Jersey website. There are different ways to set up your business: LLC, S-Corp, C-Corp. If you're trying to determine the best one for you, I suggest consulting with a lawyer or a professional to assist you in deciphering which one would be best for you.
Setting up my Virtual Office Space
As an insurance-based practice, you need to have a physical address in order to credential with insurance companies. This is where you will designate where you do business from. But what happens if you are a virtual practice? Great question! You have two options:
1. Use your home address. If you are working from home, you can use your home address to credential and contract with insurance companies. However, note that your address will be visible on insurance companies' directories as well as if any superbill is provided. Potential clients may also find your home address.
2. Use a physical address.
An office space that you rent can serve as a physical address. You can also use mailing addresses that ARE NOT P.O. Boxes. UPS provides this service. Co-working spaces are also another option. Regus is an example of a co-working space that has both physical and virtual packages. I rent a "virtual office" from Regus for a monthly fee, and in return, I have a physical address where my business mail is sent to. Also, if you do decide to eventually see clients in person, you have the option of renting office space by the hour. This can be especially helpful if you are just starting out or like the flexibility of working remotely. You also have the option to upgrade as you continue to grow your practice no matter which direction you decide to move in (virtual or in-person).
I knew that I wanted to keep everything separate and keep my home address private which is why I opted for the 2nd option: to use a physical address. It's entirely up to you though! Whatever you feel most comfortable with.
Setting up a Business Banking Account and Business Debit Credit Card
This right here is super important. As you begin this venture in the virtual arena, you will need certain items and services to help you start and grow your business. While you can use your personal accounts and credit cards initially, you really want to keep everything business related completely separate. By setting up a business banking account, it helps you to do just that. It also helps come tax season to show your deductions. There are sooo many options to choose from. Some dietitians choose certain credit card companies based on their support of small businesses or the potential for travel perks. Others for their lower interest rates or money back options. Do your research and find which one would work best for you! Also, look to the bank that you use and find out more about ways they might be able to assist you. If you're not happy with your current bank, then I definitely wouldn't start there! Assess all of your different options, including fully virtual banking, to determine what's right for you.
I used my local credit union, the one I've been a member one since I was 16 years old and where I opened my first checking account. I also chose a business debit card instead of a credit card because 1. I already have enough debt from student loans 2. I wouldn't be inclined to rack up credit card debt trying to make a go of my business. The downside is that my credit union is a little bit behind when it comes to technology, and they have yet to add the ability to take a picture of any business checks to deposit.
Record Everything, and Save your Receipts: Renewed your CDR credential? Save the invoice. Invested in an educational course? Save your receipt. Mileage to and from places you need to go to for business? Write it down. All of this is important in case you ever get audited by the IRS. So keep good records, and you won't have to worry about it!
Excel Spreadsheet:
Speaking of good records, it's essential that you track them in some way, shape or form. Tracking your expenses will be helpful as they will account towards your tax deductions. You can use a basic excel sheet, for free, to get started.
Column 1: Expenses
Column 2: Amount
You can even organize further to include Professional Fees, Marketing Costs, Office Supplies, etc.
Create an additional spreadsheet to track your income.
As you grow and have more income/expenses, consider using a software. Quickbooks is a popular one among dietitians. Some additional examples include Intuit, Quicken, and Wave. Personally, I like Wave because it's free and is relatively easy to navigate. You can connect your business account to the software. You can also integrate a payment processor to link with it for easy transactions. Learn more here: waveapps.com
Choosing a Payment Processor: Square vs. Stripe?
As an insurance-based practice, your insurance checks will be deposited into your business checking. However, if you offer nutrition services not covered by insurance and have additional add on services, it is recommended to have an additional payment processing system. Square and Stripe are both popular companies to utilize. They usually take ~3% for each transaction that is processed. I chose to go with Stripe and luckily, haven't had any problems accepting payments or sending invoices if needed.
Another benefit of having a payment processing platform like Stripe or Square is you can set it up as your business to accept HSA/FSA cards. These specific cards are utilized with some insurance plans that can be utilized similarly to a debit card but your payment processing platform must be authorized in order to process the cards.
Choosing a Phone Line
Can you use your own cell phone and number? Yes. Do I recommend it? No (and here's why).
Potential and current clients will have access to you 24/7 and can call and text you at any time. This can lead to burnout and blurred boundaries. Also, they now have access to your personal phone number.
Choose a phone communication service instead. Some examples include RingRx, RingCentral, and Grasshopper Virtual Phone System
You sign up for the plan, register your new phone number, and download the app. You utilize this phone number as your business number. Calls come directly through the app with the ability to set up your voicemail and more. I utilize RingRx. I pay about $15/month and so far, it's worked pretty well.
E-mail Address
You can simply use your current e-mail address or sign up for one for free on google or yahoo. Super easy and simple. Once you decide on your business name, you can also purchase one through Google. For example, my e-mail address is [email protected]. Whatever you decide will be great! Having an e-mail address as an additional point of contact is important.
HIPAA-Compliant Telehealth Platform
Being a virtual practice means you will be seeing clients, well, virtually! In order to do so, a HIPAA-compliant platform is needed. Insurance only reimburses for face to face interaction which is why a HIPAA-compliant software is needed in order to comply with the guidelines. You can utilize free options such as:
Doxy.me
Zoom Pro
Google Suite (with BAA signed)
Business Associate Agreement: Ensures the way in which you do business is HIPAA-compliant and adheres to best practices.
Electronic Medical Record: Do I need one?
You don't need to have an electronic medical record. You can absolutely chart the good ol' fashion way with a pen and paper. As long as you include and document all of the necessary pieces of information for insurance purposes, you are golden!
That being said, Electronic Medical Records a.k.a. EMRs can help to streamline and automate your business, saving lots of time and energy (who doesn't want more of that?!) There are a variety to choose from including Practice Better, Simple Practice, Healthie, Kalix, and more. Most of the EMRs have free trial periods, and I highly encourage you to sign up for them. This allows you to get a better idea of the look and feel of the platform, it's ease of use, and how you feel with it. Why most insurance-based dietitians choose Simple Practice is because it contains a clearinghouse (more on that later!) that allows you to also submit insurance claims. All of the platforms also contain a virtual component that allows you to conduct telehealth and is HIPAA-compliant, usually with an additional fee. Another perk? You can seamlessly switch between clients, chart on sessions, schedule initial and follow up sessions, automate reminders, and so much more. It really boils down to which one you feel like you could vibe with, especially since this is going to be one of the most important aspects of your insurance-based practice!
Everyone is going to have an opinion on which EMR to choose. I went with Practice Better, even though it doesn't integrate with insurance. For me, I liked how user-friendly it was. I also liked that I can create protocols for each of my clients to help recap our nutrition sessions and goals we discussed. I also find that it is very intuitive and allows you to also create templates that you can adjust and modify. It has an app that allows clients additional access to their bookings with you, documents shared, and ability to have telehealth sessions right from their phone. If you are thinking about trying it, here is my affiliate link to check it out: Practice Better Trial
A clearinghouse is a third-party that processes insurances claims. Since Practice Better doesn't have one, an additional one is needed. Options include Office Ally, Availity, and Lightning MD. These sites allow you to submit insurance claims and process the claims through the insurance company. All of them have a monthly cost associated with them and is dependent on how many claims you submit. In the beginning, I used Office Ally. It is relatively easy to use and gets the job done. Currently, I use Lightning MD. So far, it's been helpful in that it's easy to submit claims, and it can generate reports showing income from different insurance payers.
Current Monthly Cost of my Virtual Office Space (as of March 2022):
Regus: $110.55
RingRx: $15.00
Practice Better: $51.00 USD
Lightning MD: $50.00
Website Maintenance: $55.00
HealthProfs: $30.00
Zoom HIPAA: $10.00
Office Supplies: $50.00
Total: $371.55
*Please note: this does not include additional fixed costs such as computer hosting, legal and professional fees, yearly fees such as email platform, etc. Also, pricing for these platforms is subject to change so always look into current pricing and the best option for you and your practice!