Hey guys! So you've stopped by to see what this is all about? Welcome! I couldn't be happier that you're here. The Heart Health League was built to serve as your go-to resource for heart health. It's a monthly membership site to bring everything nutrition and heart-health related all under one roof.
The Heart Health League is for you if:
You're done spending countless hours searching the internet for ways to improve your diet and heart health.
You're sick and tired of trying to figure this out and navigate it all on your own.
You're finished feeling like a deer in headlights in the middle of the grocery store wondering what you can and can't eat.
You cringe at the thought of having another damn salad.
INCLUDED IN YOUR MEMBERSHIP
Resource Library
With how-to-guides, educational handouts, and tips and tricks from a registered dietitian specializing in heart health.
Heart-Healthy Recipes
Breakfast, lunch and dinner recipes you'll actually enjoy. Plus 30 minute meals, time-saving hacks, and smarter snack choices.
All-Star Team Q&A
Interviews with doctors, healthcare providers and licensed professionals who all have a hand in helping your heart and getting you back to doing the things you love.
Hands-on Workshops
Designed to show you everything from how to meal prep and make an assembly-type meal to non-microwavable lunch ideas for work.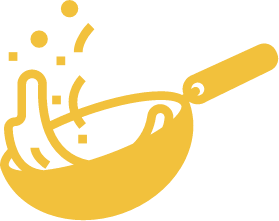 Community Support
Support from fellow Heart Warriors (who can share tips & actually relate to your experiences) via our Private Facebook Group.
THE INVESTMENT
When you join the League, not only are you joining an epic membership site, you're also becoming a part of a team. A team that's rooted in strength and resiliency despite the physical and mental challenges they've faced. Every member is committed to making the most of what this life has to offer and to helping others find their path toward a heart healthy lifestyle.
JOIN THE WAITLIST
This doesn't sign you up for the Membership, but keeps you up to date on what's happening in the Heart Health League. It also gives you first dibs on joining, access to bonus offers, and more!